STAYING AT THE HISTORIC C.C.C. CAMP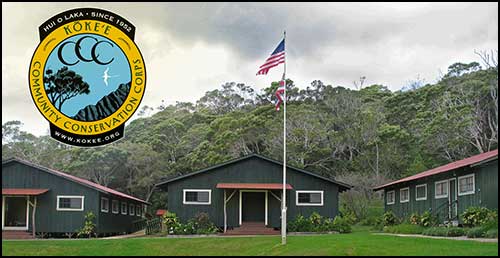 HUI O LAKA OPERATES THE CCC CAMP:
To preserve and interpret the historic Camp complex.


To provide room for Hui o Laka offices, operations, and programs.


To support volunteers and researchers in the parks.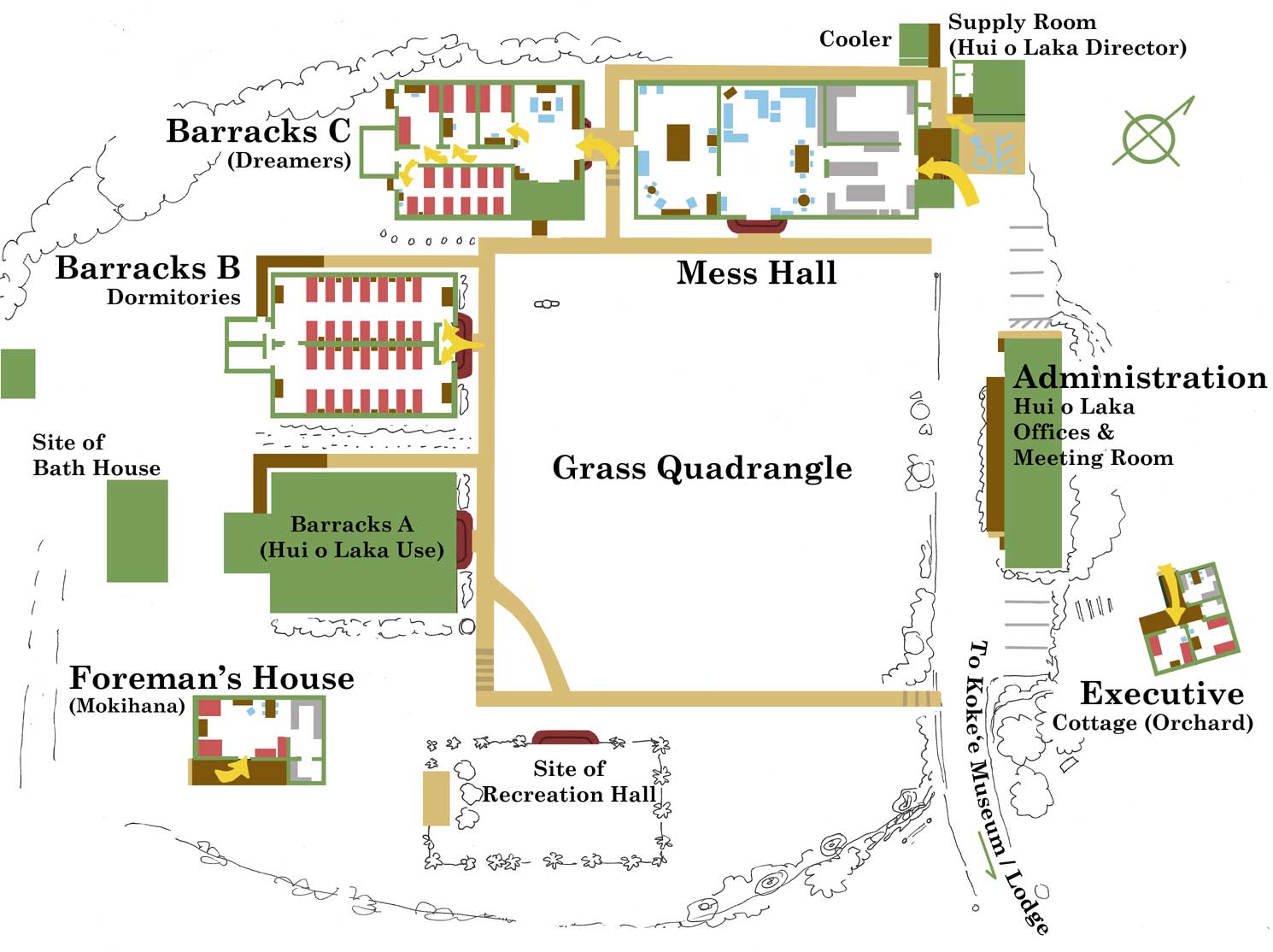 Aloha!

This is a historical facility located in Koke'e State Park built in 1935. The Koke'e Civilian Conservation Corps Camp is on the National Register for Historic Places. Hui o Laka rents out the camp for retreats, educational camping experiences, conferences and reunions. We also rent the camp out to individuals, couples, and families. Parking at the camp is extremely limited which also limits activities you may have at the camp. Tent camping is not permitted at this facility but there is a campsite (State Park permit required) on the other end of the grassy park below us. We are not a hotel and staffed minimally during the hours of 9am to 4pm weekdays. We cannot always take same day walk-ins or back to back reservations as there are no staff to accommodate you.

Group stays using our barracks and mess hall have new restrictions and fees. Please contact our camp manager: cccamp@kokee.org with your request and planned activities. All reservations require a two night minimum. Please plan on providing your covid protocols.

Current rates for overnight accommodations and all the requirements are linked below. The Mess Hall now has separate fees and not part of the rates charged for Barracks use as in the past. Cabins have their own kitchen facilities that are fully equipped. Please check to see the details on each cabin and occupancy allowance. No pets are allowed, and you will be charged pet cleaning fees if you insist on bringing one. Linens are not provided, including bed pillows. There is no cellular and Wi-Fi service at the camp. There is cell service within two miles of the camp at Puu Hinahina Lookout and at Waimea Canyon Lookout.

All the information and forms you need for a camp stay are provided below. Return electronically by email info@kokee.org or by fax: 1-808-335-6131. Call direct for availability: 808-335-9975 during our office hours. Online calendars showing blocked out use above are kept fairly up-to-date but is subject to change without notice. One-night deposits are required to hold reservations for a minimum of two-night stays.

The camp is intended primarily for retreat or educational use. Those looking to have weddings and large parties should seek other accommodations. We do not have enough parking and restrooms for this type of use. The facility is fragile. Requests for smaller group accommodations will be considered by the camp manager directly. Look over our camp rate sheet and be prepared to discuss your plans so we can make sure the camp is a good fit.

For your convenience and comfort there is a pdf "What to Bring to Camp" List.

Click here to see photos of the camp.

A reminder to researchers and those planning on using park facilities and parking for more than 26 people, permits may be needed from the appropriate DLNR agencies. Attached below is the State Park Permit Form and a Volunteer Liability Form for those planning on doing volunteer work for Hui o Laka.

For information on permitting, call State Parks at 1-808-274-3444. Please plan well in advance as it is seldom possible to obtain permits at the last minute. There is no free housing for volunteers doing projects at Koke'e for other organizations.


CCC Camp Availability Calendar
= reserved room nights
CCC Camp Accommodation Forms
VOLUNTEER WAIVER
*If you are volunteering, then every member of your group who is volunteering must print, fill out, and fax the above form to 1-808-335-6131 (or email to
info@kokee.org
), or bring it with you.