MUSEUM SHOP
SHOP KŌKEʻE WITHOUT MAKING THE DRIVE
VISIT OUR ONLINE STORE - COMING SOON!
Meanwhile, read about our products below, come up to shop, or give us a call:

A way to shop at Kōkeʻe Natural History Museum without making the long winding drive to Kōkeʻe. A way to support Hui o Laka and its many visitor services through good times and bad. DVDs, recordings, and books that illuminate natural and cultural treasures of Kauaʻi. Unique gifts you will find only here.

Several of the most stunning t-shirts you will see anywhere. Thoughtful items produced entirely on Kauai.

Hui o Laka's on-line store cannot possibly feature all the items nor the hundreds of books carried in our Museum Shop. If you know of an item we usually carry, or wonder if we carry something you are looking for, please feel free to inquire at 808-335-9975. We're always glad to ship.



SPECIAL OFFERINGS
Originals by Kaua`i scratchboard artist Michelle Dick Your chance to own original artwork by a master of scratchboard media! Three framed pieces are on exhibition in the Museum and available for purchase.
These meticulously detailed images adorned t-shirts for Eo e Emalani i Alaka`i festivals and proceeds from their sale will support our Hawaiian heritage programs. Come up and take a look, or inquire at (808) 335-9975.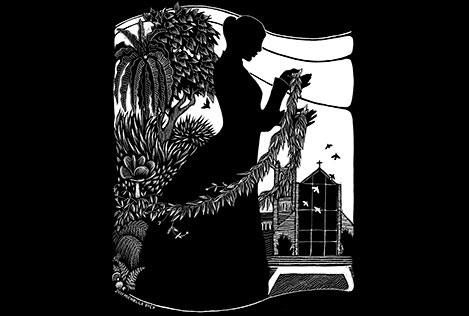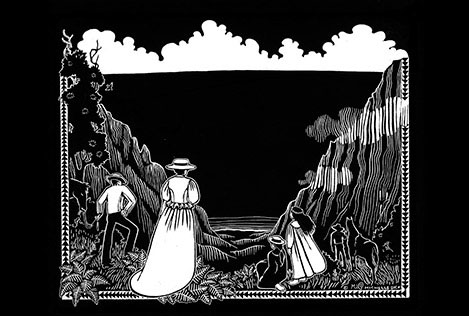 BOOKS AND PUBLICATIONS
Plant Guide to the Nature Trail This printed guide turns the short Nature Trail behind Kōkeʻe Museum into a learning experience about Hawaiian mesic (moist) forests. Included are discussion of Laka, patron diety of Hawaiian forests, as well as cultural uses of plants. Over 30 plants are identified, corresponding to numbered posts along this mesic forest trail. Flip the guide over, and learn about the conifers of Kōkeʻe.

Touring the Legends of Kōkeʻe by Frederick B. Wichman Use this helpful guide by storyteller F.B. Wichman to discover Kauaʻi legends along the road to Kokeʻe. Include area map and historic photographs, along with 12 site specific legends. Kauaʻi Historical Society, 2001.

Kauaʻi Tales by Frederick B. Wichman Attractively illustrated by Kauaʻi artist Christine Fayé, Kauaʻi Tales includes 18 stories. Wichman's tales, compiled from a lifetime of Kauaʻi experiences and sources, are compelling traditional stories of how the lives of people and their island are woven together like a fine mat of one mesh. In their telling, Wichman shines light on some of the mystery and wisdom of his island home. So popular it's been in print continuously since 1985! Bamboo Ridge Press.

More Kauaʻi Tales by Frederick B. Wichman The author paints believable pictures of old Kauaʻi simply, fluidly, assured of details of place that only a native son could have. Readers will find themselves quickly slipping into a world replete with everyday details of ordinary people of another time. Nineteen legends illustrated by Christine Fayé. Bamboo Ridge Press, 1997.

The Birds of Kauaʻi by Jim Denny A bird watcher's delight! Kauaʻi native forest birds, wetland and shore birds, seabirds and introduced species are colorfully illustrated by the author's photographs. Excellent introductory material gives readers an overview of threats to Hawaiian birds; bird descriptions are accompanied by historical notes. A Kauaʻi bird list is included.

Hawaiʻi's Birds by Hawaiʻi Audubon Society This handy field book is the "bible" of Hawaiʻi bird watchers. Easy to slip into your pack or pocket, it is handily divided into the regions where you'll find specific birds. Hawaiʻi Audubon Society, 2005.

Kauaʻi's Geologic History, A Simplified Guide by Blay &amp: Siemers Geologist Dr. Chuck Blay and son Robert Siemers have teamed to create the best overall guide to Kauaʻi's geologic history. Generously illustrated with graphs and maps that show everything from Kauai's sea floor imagery to rainfall and wind patterns, this book surveys the geology of every region of the island. Teok Investigations.


MAPS
Trails of Kōkeʻe by Kathy Valier This is the best simple map of trails in Kōkeʻe State Park. It includes all park trails and 4-wheel-drive roads, and has a simple chart to help choose a trail — with length and hiking time noted. The back of this foldout map includes helpful natural history information about Kauai's unique flora and fauna.

NW Kauaʻi Recreation Map/Waterproof This is a map lover's delight, folding out to reveal the entire northwest quarter of the Island of Kauaʻi. It includes the Nā Pali Coast State Park, all of Waimea Canyon and Kōkeʻe State Parks. The back of the map takes a look at the famous 11-mile Kalalau Trail from the sea looking back at this extraordinary coastline. Lots of information! Earthwalk Press.


COLLECTIBLES
Enameled lapel pin — State Bird This pin looks as good on a suit as it does on a cap. It shows the Hawaiʻi state bird, the nene goose, in full flight and is only available from Kōke'e Natural History Museum.

Enameled lapel pin — State Flower Another Kōke'e Museum exclusive! This charming lapel pin illustrates ma'o hau hele (Hibiscus brackenridgei), a showy yellow hibiscus endemic to Hawai`i. Both exclusive pins were designed by Kauai's own Mary Williamson.

Pressed Pennies An American tradition since the world fair exhibition in Chicago in 1893! Exclusive designs from Waimea Canyon and Koke`e State Parks . "HUNT PIG-KAUAI" and "HAWAII STATE BIRD-NENE" have horizontal images on the elipitcal pressed coin. Both 'HIKE KAUAI-WAIMEA CANYON" and CROW FOR KOKEE! (showing a rooster) are vertical designs.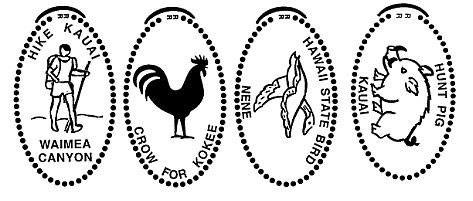 Awareness Bracelet Another exclusive! It says "MAY THE FOREST BE WITH YOU!" on this forest green/light green swirl awareness bracelet. 100% silicon.

Hawaii State Flag The Hawaii state flag, 5×4 inches, is proudly carried on a 10.75-inch gold-tipped standard. You'll recognize Britain's "Union Jack" in the upper corner. Each of the eight stripes represents one of the major Hawaiian islands. Polyester and wood.


CAPS AND HATS


Each of these well-made baseball caps is embroidered with a sprig of maile and mokihana above the catchy and meaningful phrase, "May the Forest be with you!" Everyone will know where you got it, as "Koke'e Kauai" is embroidered above the adjustable back.

Baseball cap "May the Forest be with you!" Khaki canvas with charcoal or forest green visor. Adjustable to fit most sizes.

Castro cap "Free the Natives – one tree, one trail at a time!" Hui o Laka's park stewardship motto is embroidered on the front of this army green field cap. Another exclusive. One size fits most.


T-SHIRTS


Emalani Festival T-shirt (long and short sleeve) Great artwork on a shirt! Since 2002, Kauai artist Michelle Dick has been creating images for Hui o Laka's annual festival celebrating Queen Emma's journey to these mountain forests in 1871. Created in scratchboard technique, Michelle's meticulous art celebrates "the Queen who took the land to heart." The back of the shirt lists all participating halau in this annual commemorative festival. (not pictured)

Kokua Koke'e-Free the Natives Field Shirt (long sleeve only) This handsome shirt was designed with park volunteers in mind – because it's meant to be worn in the field, it comes only in long sleeves. Back shows stunning image by artist Michelle Dick of horse riders trekking up the mountains with the phrase "Kokua Koke'e! Partnering to Protect our Parks. Down the right sleeve bold letters proclaim the Kokua Koke'e motto "Free the Natives-1 Tree, 1 Trail at a Time!" Front is plain with an over-the-heart Hui o Laka-Koke'e Natural History Museum logo. Comes in Forest Green and Hunter Orange.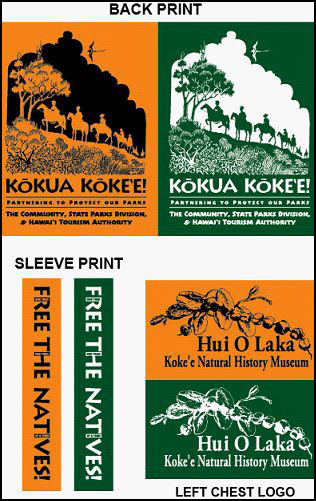 CDS AND DVDS


Kauai Mauka by David Kuhn Nature soundscapes recorded in the field by noted bird watcher David Kuhn. Includes evocative selections like Nene Reveille and 10 full minutes of forest bird calls. Sounds like soothing forest jazz!

Voices of Kauai Forest Birds by David Kuhn A must for all bird watchers! This great self-training CD includes the identified sounds of 16 native birds, 15 introduced birds, a discussion of identification problems, and listening practice.

Both recordings have been used in museum exhibits and for training ornithologists.