STAYING AT THE HISTORIC C.C.C. CAMP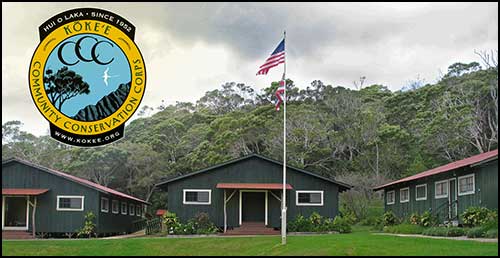 HUI O LAKA OPERATES THE CCC CAMP:
To preserve and interpret the historic Camp complex.


To provide room for Hui o Laka offices, operations, and programs.


To support volunteers and researchers in the parks.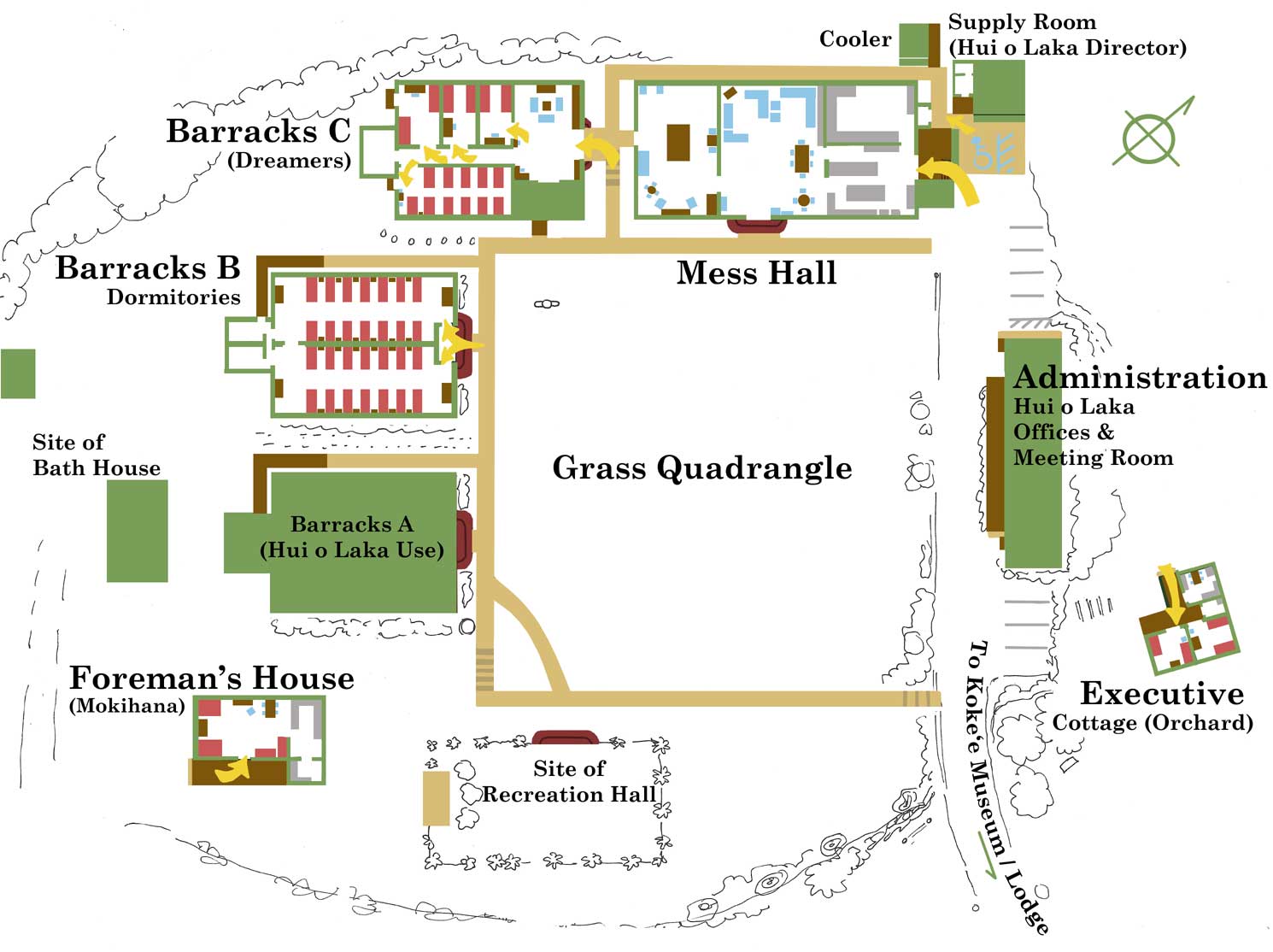 Koke'e State Park will be paving the parking lots in front of the Museum and Lodge, INCLUDING the driveway and parking areas at the CCC Camp. This work is currently scheduled for May, June, and possibly into July depending on the weather situation. This work will be occurring Monday-Friday from about 7am to 3pm. At times, people using the CCC Camp may not be able to park anywhere near the camp. Designated parking areas will be setup for the Museum and Lodge with way finding provided by the contractor Earthworks Pacific.

While the camp primarily serves park volunteers and researchers, Hui o Laka also rents out the camp for retreats, educational camping experiences, conferences and reunions. The purpose of such rentals help support camp operations. If your group or family would like to volunteer for Hui o Laka's Kōkua Koke'e Program, please call 808-335-9975 ext 2 prior to your stay as our program coordinator is only available on a part-time basis.

Being able to rent the camp is a benefit of Hui o Laka membership, which is required. Individuals and immediate family members may stay at the camp as part of membership as an individual or family. For group stays membership must be for current patron members, businesses and corporate levels.
Rates for overnight accommodations and all the requirements are listed in the PDF links below. The Mess Hall is included only with bunkhouse use or can be used separately. Houses have kitchen facilities. To arrange a stay, please fill out the PDF forms below and return electronically or by fax to 1-808-335-6131. Call direct for availability 808-335-9975 ext. 1

A reminder to researchers: for Hui o Laka to accommodate you at the CCC Camp, your research project must be permitted by DLNR/State Parks Division. For information, call State Parks at 1-808-274-3444. Please plan well in advance as it is seldom possible to obtain permits at the last minute. 

Click here to see photos of the camp.
CCC Camp Availability Calendar
= reserved room nights
CCC Camp Accommodation Forms
2015-16 CCC CAMP RATES

REQUEST FOR OVERNIGHT ACCOMMODATIONS FOR THE CCC CAMP
Please print, fill out, and fax the above form to 1-808-335-6131 or email to info@kokee.org.

WHAT TO BRING TO CAMP

CCC CAMP APP:WAIVER 8.20.14
Please print, fill out, and fax the above form to 1-808-335-6131 or email to info@kokee.org.

VOLUNTEER WAIVER
*If you are volunteering, then every member of your group who is volunteering must print, fill out, and fax the above form to 1-808-335-6131 (or email to info@kokee.org), or bring it with you.